By Troy Corman, t2 Real Estate / T2 Ranches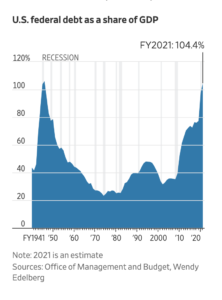 An alarming article by the Wall Street Journal indicated that the US debt will exceed the US Gross Domestic Product (GDP) in 2021. In fact, they forecast it to reach 98% of GDP this year.  The combination of lower tax receipts and the $3.3 trillion pledged since March, to combat the effects of the coronavirus, have pushed the debt from $17.7 trillion in March to $20.5 trillion at the end of June.  Next year will be the first time that the federal debt has exceeded GDP since 1946, when the US was financing military operations to end World War 2.
Surprisingly, ultra-low interest rates so far have resulted in net interest costs on the debt to be 10% less than a year ago, despite the increased debt load.  Economists are now forecasting even lower interest rates in the years ahead, but expect the interest on the debt to cost $1 trillion annually by end of the decade.  They also are forecasting low inflation, which I always find laughable, when you look at how much real estate values have increased during these "low inflation" years.
The low-interest rates have been jet fuel for home purchases and a rapidly rising stock market, although the market's had a couple of rough days most recently.  If interest rates remain incredibly low, and the "new norm" for the next several years, when do they become less of a booster for the real estate and stock markets, as they become taken for granted?
What will the US then be able to do, to spur the economy during downturns when interest rates can't go any lower?  I certainly have no idea, but increasing taxes, or reducing government spending, are two ways to whittle away at the debt, and the most painful for politicians.  More likely, in my humble opinion, they will let the value of the dollar decline whenever possible, thus monetizing the debt.  This, in turn, will make hard assets, like real estate increase in value.
It will be interesting to see how it all plays out.
Troy Corman has had a real estate brokerage practice since 2009, and focuses on land sales surrounding Houston, Dallas – Fort Worth and Austin TX. Reach him at 214-690-9682 or 832-759-1523.