By Troy Corman, T2ranches.com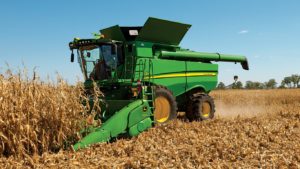 Low commodity prices over the last few year have made it tough on farmers both in Texas, and across the country. Higher yields on most crops in 2019 are certainly welcomed, yet price appreciation is really the key to get farms and agribusinesses back on firmer ground.
Southwest of Houston, Fort Bend county is still home to a major agricultural economy. However, these days, crops aren't the only thing growing in Fort Bend County. New subdivisions in Fort Bend County are sprouting up as residential and commercial real estate development continues marching westward from Houston. Land in Fulshear, Katy, Rosenberg and Richmond are areas that continue to be the most popular destinations for real estate development in Fort Bend County.
Almost 60,000 acres of farms in Fort Bend County have disappeared in a 10-year window. Between 2007 and 2017, farm acreage in Fort Bend County has decreased from 339,295 acres to 279,483 acres. In that same time frame, farms decreased from 1,404 farms to 1,155 farms and average farm size has decreased from 273 acres to 242 acres.
Although this year's early rains delayed the start of many farmers getting their ground ready for planting season, it appears that many 2019 Fort Bend County crop yields will fare much better than 2018 yields.
With $22.6 million in annual sales, milo (sorghum) is the second largest cash crop in Fort Bend County. Each year, about 18,000 acres of milo are planted in Fort Bend County. Across Texas, milo production was up 62% annually, with 101,000,000 bushels tallied. Statewide, yields averaged 76 bushels per acre, up 26 bushels over 2018.
Fort Bend County corn farmers produce, on average, 14,200 acres, with 1.64 million bushels of corn harvested annually. According to the USDA, the state of Texas produced 297 million bushels of corn this year, up 57% over 2018. Statewide, an average of 145 bushels per acre topped 2018 levels by 37 bushels. About 2,000,000 acres of corn were harvested in Texas this year, up 17% versus last year.
The number 1 cash crop in Fort Bend County is cotton.  Approximately 38,000 acres are planted each year in Fort Bend County cotton farms, resulting in 70,000 bales (480 lbs). That's good for about $24,000,000 in revenue. The USDA cotton forecast in 2019 for Texas calls for a 40% increase with 6,000,000 acres harvested. That's quite a jump over 2018, as late summer rains ruined a lot of cotton crops a year ago. 8.4 million bales of upland cotton are expected for the 2019 harvest, up 23% annually.
As the China trade tariffs have been in the news, it's no surprise that Texas soybean yields are expected to total 3.23 million bushels, down 25% annually. Yields however, are expected to increase from 32 bushels in 2018 to 38 bushels per acre in 2019. On average, Fort Bend farmers plant about 5,000 acres of soybeans each year.
Rice farms in Fort Bend County produce about 30.9 bushels per acre across 4,700 acres. This creates roughly 498,000 hundred-weights. Texas rice crops in 2019 are forecasted to yield 15.3 million hundred-weights, up 2% from last year, but yields are expected to be 70 pounds less, at 7,900 pounds per acre. 2019 harvested rice acreage in Texas is expected to rise 3%, at 194,000 acres.
As I drove a couple of roundtrips to Dallas in July, it seemed there were fields of round hay bales everywhere. The USDA expects 9.03 million tons of hay in Texas this year, compared to 7.59 million tons a year ago. 908,000 tons of Texas alfalfa are expected in 2019 compared to 784,000 tons last year.
Search for ranch or farm land for sale in Fort Bend County here.